Sport and culture
We offer you a pleasant stay in comfortable rooms designed to provide high standard accommodation suitable for families, athletes, vacationers , as well as spa patients and their families.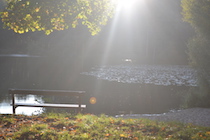 The town along with its surroundings seems to be the ideal location for touring, peaceful relaxation and many other activities. Directly in the town center one can enjoy a stoll along the spa promenade and around the parks or sightseeing.
We suggest that you explore the lowlands along the Elbe River, with its distinctive flora and fauna. Tour the countryside on foot if you like to take grassy paths, on in-line skates or by bike using the newly built asphalt-surface bike trails.
Cool off at the nearby lake with sandy beaches in summer. If the weather is bad, why not visit Prague using a fast Podebrady - Praguefreeway connection - it is a 30 minute drive or an hour train a or bus ride.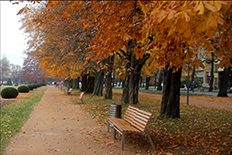 You can also vist a new aquapark in nearby Kolín.

Golfers can try one of the most spectacular 18-hole golf courses in the country, including a training course, and a trainer for hire. There are tennis courts, a squash centre, fitness centre, minigolf and skatepark as well. If you wish to ride a horse, you can get in touch with the local horse-riding club. The Elbe River and the lakes abound with fish and therefore fishing opportunities are plentiful.

The dominating sight is the Podebrady Chateau (the home of King George of Podebrady) accessible from the central square. The town surroundings are also of interest.  Taking the bike trail up the river, you will get to the fork of the rivers Cidlina and Elbe.  If you go further you will reach the remnants of a fortified settlement that dates back to 10 century of Slavnik Dynasty. A motor train or a boat named King George will take you to this destination and back. Other places of interest are the Polabske Muzeum and the Ethnographical Museum in nearby Prerov nad Labem.

Numerous fancy restaurants as well as cafeterias and fast food places are within walking distance. A supermarket open 7 days a week is within 50 m of the pension.
Both the train and bus station can be reached within 8 minutes on foot, unless you want to use the local private taxi service.