Poděbrady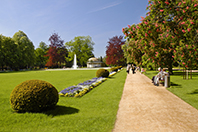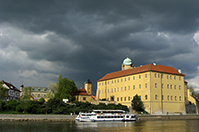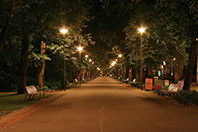 Relax:  Enjoy a spa treatment while relaxing in awhirlpool or loosen up with a tranquil massage.  Then you can visit our famous city park, where many social and cultural events and concerts take place, especially during the spa season.
Explore:  Walk the spa colonnade, from the city center all the way to the train station pass the historic flower clock.  Along the way you can stop at one of 
many coffee shops and soak up your day off.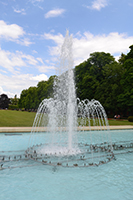 Excercise:  Take advantage of our renown cycling paths along the river Elbe on you bike, skates or just walking.  There are also many other hiking paths in
the area for active relaxation, and our guests who enjoy golf, tennis, squash and many other sports will not be disappointed.
In the summer the local sand based lake provides a nice way of cooling off.  In case of bad weather you can visit Prague, which is about 30 minutes away by freeway, or you can take advantage of the frequent bus or train connection.  

A modern aqua-park in a nearby Kolín (20Km) is another alternative.

Golf fans can try one of the nicest 18-hole golf courses in the Czech Republic which also includes a training lawn with an instructor.  Tennis courts as well as squash center, fitness center, mini-golf and a skate park are available in a close proximity to our pension.  If you are interested in riding a horse you can do so at the Poděbrady riders club.  For fishermen, there is the river Elbe or the local lake.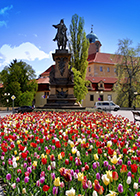 A stroll along the river Elbe will take you all the way to a river fork of Elbe and Cidlina where you can visit the remains of historic fort of the Slavnik dynasty.  On this trail one can also take a ride on the small motor train or the restaurant boat.  We suggest you visit the Poděbrady castle with it's newly reconstructed memorial interiors of king George of Poděbrady.  Those interested in history can get their fill at the Elbe lowlands museum or at the skanzen (outdoor musem) at the nearby Přerov nad Labem.

The shopping center Albert is only 50 meters away from the pension.  It stays open 7 days a week.